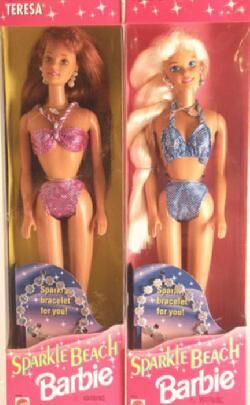 Teresa is a Hispanic friend of Barbie who first debuted as the "California Dream" Teresa doll in 1988 resembling Dee-Dee from the Barbie and the Rockers line. Since then, she has been Barbie's most frequently featured female companion in the toy line (next to Christie). Currently, Teresa remains one of Barbie's core friends in the Barbie brand, along with Summer, Nikki, and Raquel. In the movie "Barbie and the Diamond Castle," Barbie states that Teresa is officially her "best friend".
Biography
Barbie's "family tree" has expanded over the years to include numerous diverse and multicultural friends. Teresa was among these, being depicted as Hispanic, Italian, or Latin. She first appeared in 1988 in the "California Dream" line alongside Barbie, Ken, Christie, and Midge (who made her comeback in this line). Christie had been Barbie's most featured friend at the time, being featured continuously in the playline since 1968. It wasn't till 2004 when Christie was discontinued after the "Really Rosy" line, that Teresa would become Barbie's most frequent companion after Ken. Since then, Barbie and Teresa are still best friends.
Teresa has been seen in various Barbie-related media such as books, magazines, video games and movies such as "Barbie and the Diamond Castle," "Barbie and the Three Musketeers" and "Barbie in A Mermaid Tale", but she made her first appearance in "Barbie of Swan Lake" where she played the Fairy Queen. She currently appears in the web series "Life in the Dreamhouse", where she plays herself.
Relationships
Products
1998
1999
2001
2002
2003
2004
2006
2007
Gallery
Notable Milestones
First Teresa used the Spanish head mold for her debut in 1988
Teresa gets her original head mold which is used from 1990-2006
"Top Model" Teresa used Lara/Drew's head mold 2007-2008
"Playline" Teresa used Barbie's 2005 head mold 2007-2008
"Playline" Teresa currently uses Summer's head mold ("Fashionistas" and "Barbie in A Mermaid Tale" lines) 2009 – Present
Community content is available under
CC-BY-SA
unless otherwise noted.