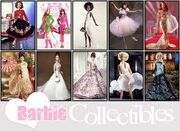 Mattel estimates that there are well over 100,000 avid Barbie collectors. Ninety percent are women, at an average age of 40, purchasing more than twenty Barbie dolls each year. Forty-five percent of them spend upwards of $1000 a year. Vintage Barbie dolls from the early years are the most valuable at auction, and while the original Barbie was sold for $3.00 in 1959, a mint boxed Barbie from 1959 sold for $3552.50 on eBay in October 2004.[54] On September 26, 2006, a Barbie doll set a world record at auction of £9,000 sterling (US $17,000) at Christie's in London. The doll was a Barbie in Midnight Red from 1965 and was part of a private collection of 4,000 Barbie dolls being sold by two Dutch women, Ietje Raebel and her daughter Marina.[55]
In recent years Mattel has sold a wide range of Barbie dolls aimed specifically at collectors, including porcelain versions, vintage reproductions, and depictions of Barbie as a range of characters from film and television series such as The Munsters and Star Trek.[56][57] There are also collector's edition dolls depicting Barbie dolls with a range of different ethnic identities.[58] In 2004 Mattel introduced the Color Tier system for its collector's edition Barbie dolls, ranging through pink, silver, gold and platinum depending on how many of the dolls are produced.[59]
Community content is available under
CC-BY-SA
unless otherwise noted.